2D Art Projects
Value Project
There is an almost infinite number ways that we can depict 3D objects on a 2D surface. Surprisingly, there are only two ways that value relationships can be represented: Planar Value Contrast or Value Gradation. Planar Value Contrast is used when depicting values on two or more surfaces that meet abruptly to form an edge or when depicting cast shadows. Value gradation is used when the edge disappears and the transition from one value to another is smoothed out over a convex or concave surface.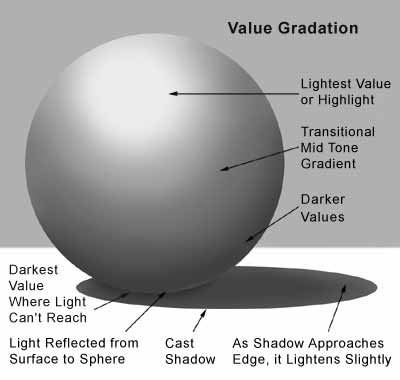 Above is an illustration of a sphere with smooth gradations of value from light to dark. Note the reflected light on the sphere and the transitional gradient toward the edge of the cast shadow. Note also that the darkest value occupies a very small amount of the composition. Daytime illumination of the still life results in a greater amount of highlight and light-to-middle values. If, however, the scene were illuminated by candlelight and at night, there would be a larger amount of dark and middle-to-dark values.
INSTRUCTIONS: On a full sheet of good quality paper that is middle gray in colour (Canson Mi-Teintes 'Steel Gray' seems to work quite nicely) draw a still life using only black and white sticks of Conté. White will be used to depict highlights while black will be used to depict shadows. The gray of the paper will help to represent the middle values of your composition.
First locate 5 smallish items with different shapes and, if possible, in neutral colours such as white or pale gray. Arrange the items on a table in a pleasing manner so that each one displays the greatest number of sides and has a maximum range of values from light to dark. Different values will become obvious if you focus a single light source such as a reading lamp on your still life. Depth of space in the composition can be achieved by overlapping the objects (placing one item slightly in front of another).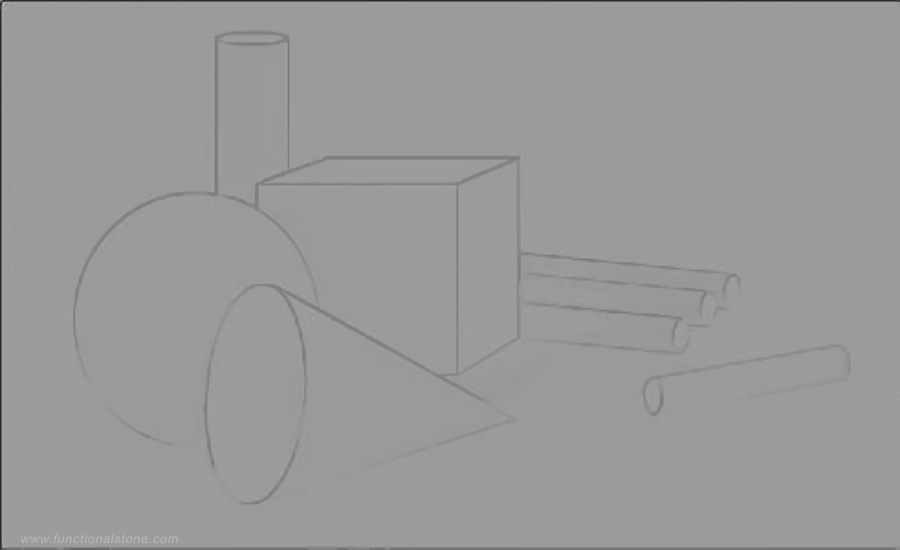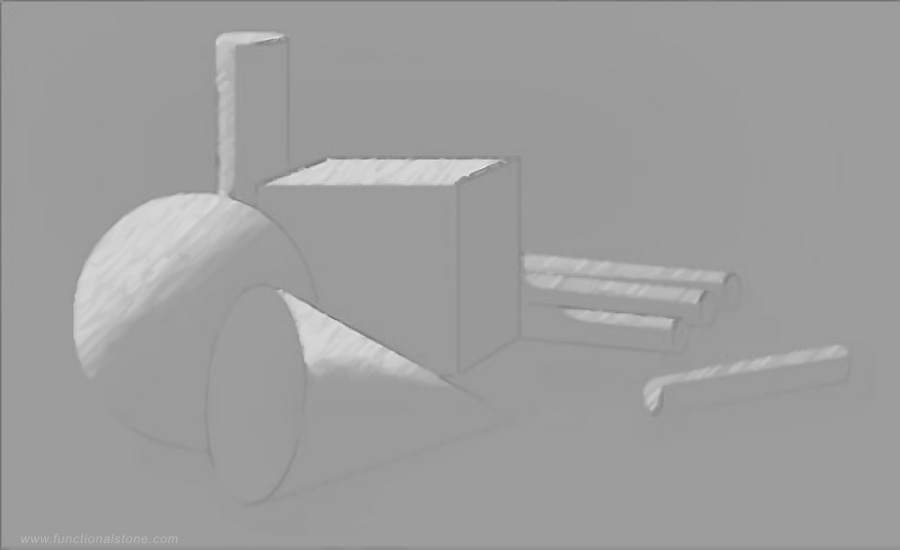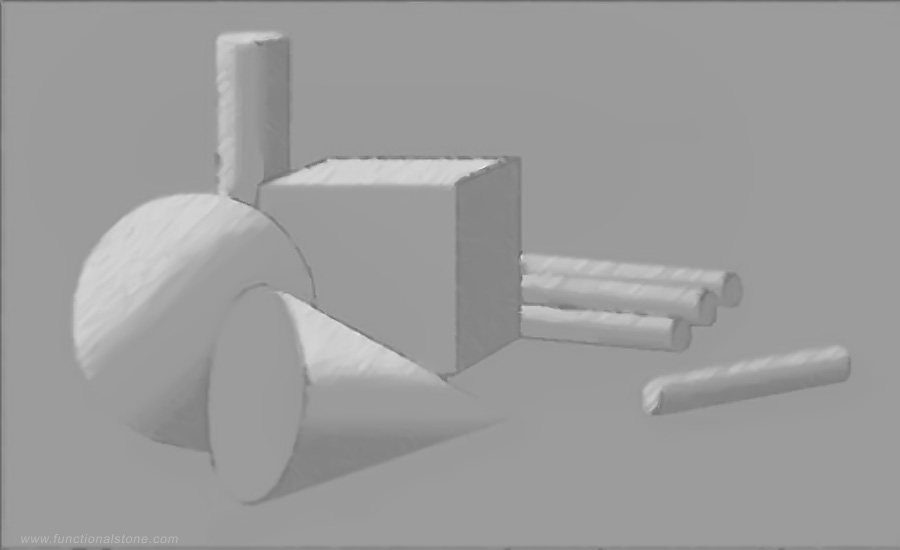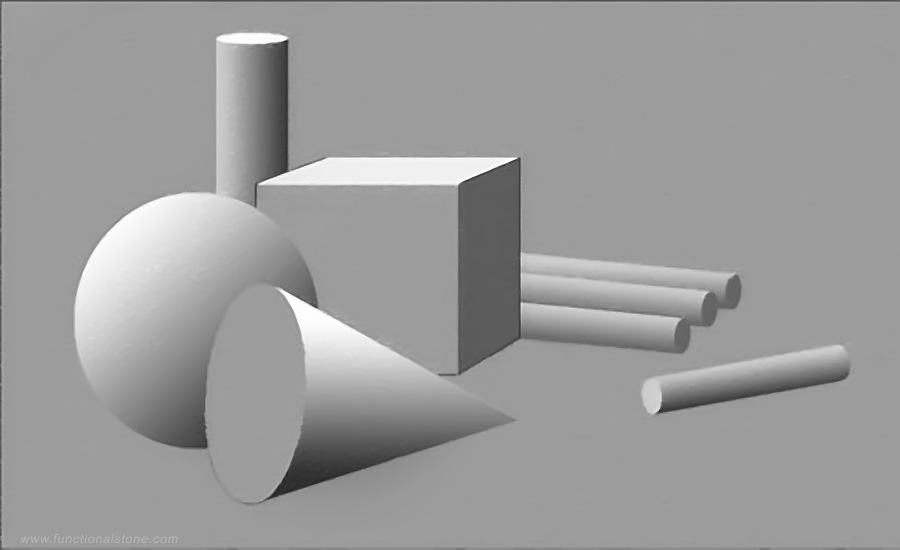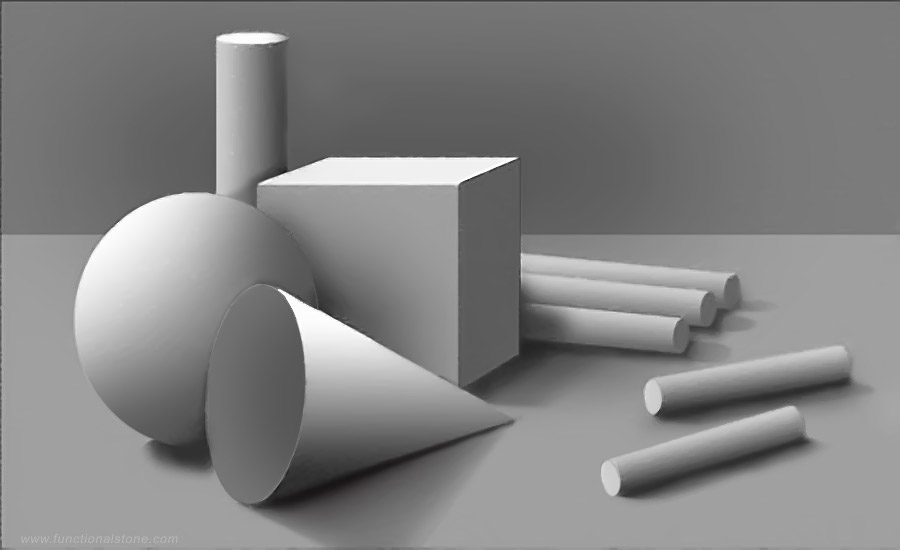 Begin by using a 4H pencil to sketch your composition with very faint lines. Use your white stick of Conté to block in (colour in) the lightest values on your still life objects. Use a blending stomp (a sharpened cylinder of compressed paper) to blend the Conté into the gray of the paper. Next, use your black stick of Conté to block in the darkest values on your still life objects. Again, use a blending stomp to blend the Conté into the gray of the paper. Notice how the colour of the paper begins to provide the mid tones in the overall range of values.
As you work, try to avoid blending the white Conté into the black Conté or vise versa. This mistake is easy to make and would produce a messy–looking mid tone that does not harmonize with the cleaner mid tones produced by the paper. It's OK for the black and white to touch or for one to sit on top of the other, but they must NEVER be allowed to mix.
The fourth drawing above is nearly finished. The objects have a good sense of volume but do not interact with each other. They also appear to float in an undefined space as though un–tethered to a surface. It is now necessary to darken the area behind some of the objects (the background) so that the space becomes better defined. Small amounts of shadow beneath the objects will give the illusion that they are sitting on a surface. Volume and depth can be emphasized by adding faint shadows where the objects overlap each other.
TECHNICAL: Draw lightly at first. You should apply more pressure to the Conté stick only when you near completion of an area and, even then, be sparing with the amount you use. It is easier to add a bit more later on if necessary than to erase an excessive amount of Conté.
AESTHETIC: Your drawing should depict a full range of values, from white to black and many grays in between. Your work must also adhere to the Principles of Composition especially Emphasis, Variety, Balance, Unity and Rhythm.
Examples of Mid Tone Value Studies
Here is a link to a discussion forum about lighting effects with some very nice computer generated graphics: http://www.conceptart.org/forums/showthread.php?223686-This-might-help-Go-on-and-try-some
Home

2D Art Projects

Projects

Value Project

© 2018, Terry Reynoldson